c'est demain 7 juillet à 13 heures.
Et pour les heureux possesseurs d'un code prévente, en remerciement de votre fidélité et pour la trésorerie maintenue sur deux années,
le festival vous offre 24 heures d'avance : rendez vous ce jour
6 juillet à 13 heures
.
Une manière de remercier les fans ayant obtenu et conservé leur sésame durant ces deux années.
Be ready – Good luck – Let's circle pit !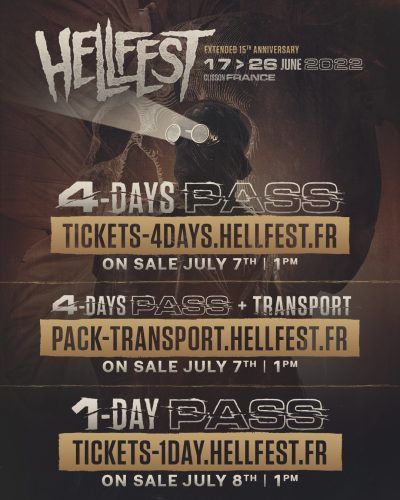 Voilà le communiqué du Hellfest 
 HELLFEST 2022 / PART 2 – LIENS BILLETTERIE OFFICIELS / OFFICIAL TICKETS LINKS 
Hellbangers, plus que quelques heures avant l'ouverture de la vente officielle pour la seconde partie de l'édition 2022 !
Voici les liens officiels qui sont à utiliser (en plus de hellfest.fr qui centralise ces trois liens) Inutile de recharger votre page avant la fin du compte à rebours de chaque vente, la bascule se fera automatiquement à l'heure H !
 Soyez vigilants et faites attention aux fausses adresses qui ne comportent pas « hellfest.fr » à la fin ! 
 PASS 4 JOURS / OUVERTURE LE 7 JUILLET À 13H00 :
https://tickets-4days.hellfest.fr/
 PASS 4 JOURS + PACK TRANSPORT / OUVERTURE LE 7 JUILLET À 13H00 :
https://pack-transport.hellfest.fr/
 PASS 1 JOUR / OUVERTURE LE 8 JUILLET À 13H00 :
https://tickets-1day.hellfest.fr/
 PASS 4 JOURS – PRÉVENTE SPÉCIALE / OUVERTE DÈS MAINTENANT (ET JUSQU'AU 7 JUILLET 12H00) – RÉSERVÉ AUX DETENTEURS DE PASS 3 JOURS EDITION REPORTÉE (uniquement via la vente officielle d'octobre 2019)
Accès uniquement par le lien que vous avez reçu par mail, ce lien n'est pas accessible via hellfest.fr !
 REVENTE / ACHAT VIA TICKETSWAP :
La plateforme de revente est pour l'instant fermée, réouverture le 10 juillet prochain pour celles et ceux qui voudront revendre / trouver leur place en vente privée à un ami ou en publique.
Notre équipe est sur le pont pour répondre à vos questions, privilégiez en premier lieu l'adresse « [email protected] » Nous resterons vigilants à vos commentaires / réactions mais nous ne pourrons pas répondre à tout le monde via les réseaux sociaux.
Bon courage à toutes et à tous, rendez-vous en enfer !
——-
Hellbangers, here is the official links to access the official sale of Hellfest 2022 / Part 2 (and also hellfest.fr) Please don't refresh your page before the end of the countdown, an automatic update will be done at the beginning of each sale.
 Be careful to fake links / websites, always check if there is « hellfest.fr » at the end of the address.
 4 DAYS PASS / ON SALE 7TH JULY – 1PM :
https://tickets-4days.hellfest.fr/
 4 DAYS PASS + TRANSPORT PACK / ON SALE 7TH JULY – 1PM :
https://pack-transport.hellfest.fr/